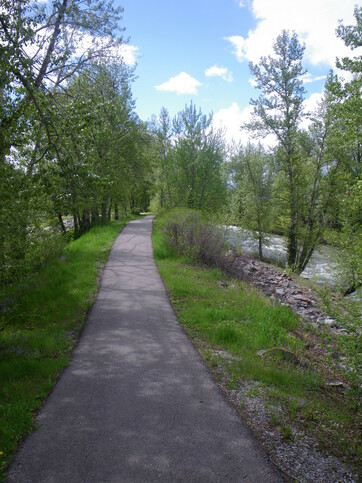 Community Walking Trails
The Crowsnest Community Trail is a 23 km, non-motorized route that connects the communities of the Municipality of Crowsnest Pass together. The trail is a combination of asphalt, gravel, and natural trail surfaces.
Use the route to travel between communities, visit local businesses, and tour incredible historical sites, such as the Frank Slide Interpretive Centre and the Bellevue Underground Mine. On the way, the trail takes you through stunning natural areas. Watch for wildlife along Crowsnest River, stop at the viewpoint overlooking Frank Slide and Turtle Mountain, and enjoy spectacular Crowsnest Pass vistas.
As you move between communities, stop at the trail interpretive kiosks to learn more about Crowsnest Pass' amazing natural and cultural history.
To learn more about the Crowsnest Community Trail, check out the Trail Brochure and Map for route and attraction information.
Trail Etiquette:
This is a multi-use trail system.
Please respect other trail users.
Travel on the right-hand side.
Biker Etiquette:
Yield to pedestrians
Be audible
Pass on left when safe
Maintain control
Wildlife Safety:
Be BearSmart.
Learn what to do in a wildlife encounter.
Make noise and alert wildlife of your presence to avoid surprising wildlife.
Carry bear spray and know how to use it.
Call Fish and Wildlife with bear and cougar sightings.
Please:
No motorized use.
Respect the private land and grazing leases the trail crosses through and stay on trail.
When traveling on the Road and Trail Shared Route, stay on the right-hand side and pay attention to traffic.
Pack all garbage out.
Dogs must be leashed. Waste must be removed immediately.
The Crowsnest Community Trail is maintained by the Municipality of Crowsnest Pass. Trail use is at your own risk. If you have any questions regarding the trail, please call (403) 562-8833.