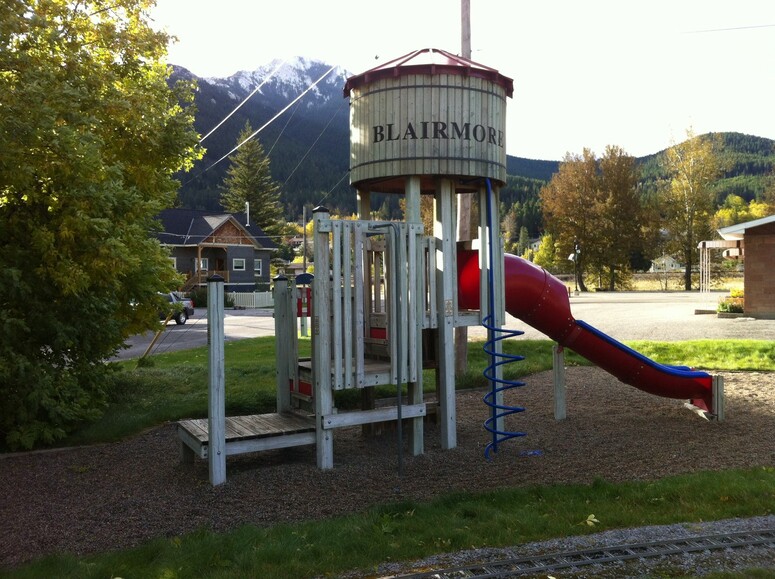 Families that play together, stay together! Many of the parks and playgrounds are fully accessible and designed to fun for all ages. Some park amenities include tennis courts, barbecue pits, bathrooms, picnic and concession facilities, playground equipment, trails, ball diamonds, soccer fields, gazebos and water play.

For further information please visit the CNP Recdesk.  To book use of fields please contact Community Services - Recreation 403-563-2209.

Bellevue
Bellevue Memorial Park, 21330 25th Avenue: Park is fully accessible. Playground geared towards ages 2 – 12. Beautiful gazebo and benches and picnic tables for your enjoyment. Concession and bathrooms open during planned events.
Fireman's Park, 2210 - 111 Street: This park has a number of amenities, including a playground, mini golf course, horse shoe pits, washrooms, kitchen camp shelter, picnic area and large greenspace. This facility can be booked by contacting Randi-Lynn Rinaldi 403-707-8574.

Blairmore
Blairmore Lion's Park and Tennis Court, 11973 20th Avenue
Isabelle Sellon Ball and Soccer Fields, 19th Ave. and 126th Street
Nippon Institute of Technology Commemorative Plaza, 13442 135th St. - Mini Heritage Railway Park
Pete's Park (Centennial) Park, 124th St. and 19th Avenue
Mountain Bike Skills Park at Pass Powderkeg, 12402 18 Avenue

Coleman
Bushtown Playground, 13th Ave. and 84th Street
Flumerfelt Park (Water Spray Park and Tennis Court), 20th Ave. and 76th St.

Spray Park and washrooms open seasonally only (dependent on weather)
Washrooms auto lock at 10:00pm and unlock at 8:00am daily
Spray park is open 10:00am - 8:00pm daily

Horace Allen Soccer Fields, 2002 76th Street
Pineview Playground, 7902 28th Avenue
West Coleman Lion's Park, 70th St. and 10th Avenue

Frank
Playground, 15004 21st Ave.

Hillcrest
Hillcrest Miners Playground / Coal and Coke Park, 22818 9th Ave.
Ball / Soccer Complex, NW of the Hillcrest Cemetery