Municipal Brand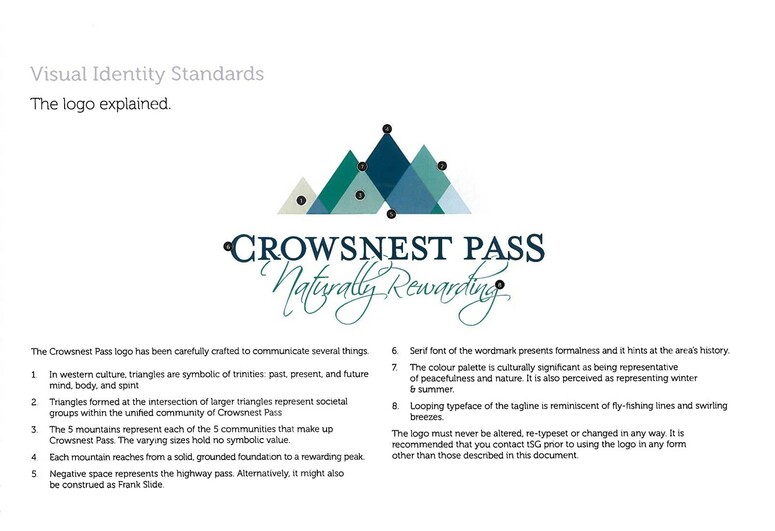 The Municipal Brand was created in 2013 by the Studio Group.
Brand Concept
The natural environment of Crowsnest Pass unites and defines the community.  It presents residents and visitors with rich challenges that they embrace and overcome.  It brings opportunities and joy.  And it provides a sense of freedom for all.  These are the rewards enjoyed by the people of Crowsnest Pass, deserved, hard fought, and won.
Brand Promise
A shared experience of the natural environment, which offers rich challenges and rewards.
Brand Attributes
The brand promise is achieved and subtly communicated through the brand's attributes.  Brand attributes are guidelines for achieving brand integrity.  The Crowsnest brand attributes are:  Unity, Natural Environment, Challenge + reward, Rich lifestyle including honest, small town values, hard work, invigorating play and inner-freedom/liberation. 
Brand Mission
The brand of the Crowsnest Pass conveys a people unified by a common experience of the unique lifestyle rewards that are derived from embracing the rich challenges and opportunities presented by the natural environment that defines their community. 
Brand Vision
The Crowsnest Pass brand will be recognized in Canada as representing a unified community embracing its natural environment which provides rich challenges and unique lifestyle rewards.
Brand Tagline 
The Brand Tagline is Naturally Rewarding.  This tagline communicates the Crowsnest Pass community's embrace of its natural environment and the rewards it brings to residents and visitors alike.