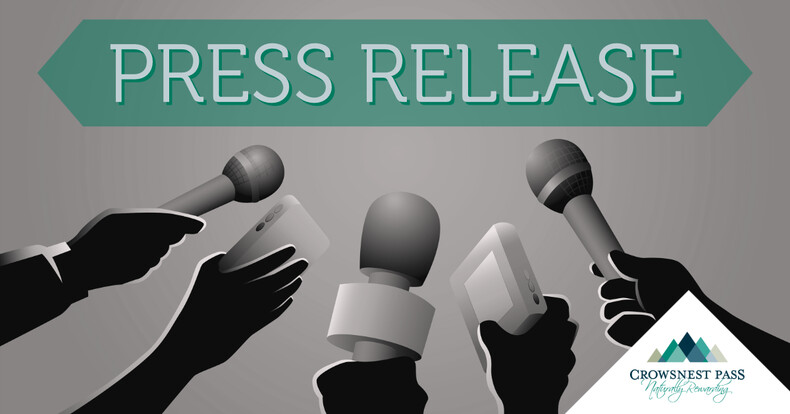 Press Release – Disruption in Recycling Service - September 18, 2019
September 18, 2019 - For Immediate Release – The Municipality currently contracts out recycling to a third-party business who provides the collection bins and organizes the recycling of plastics, cardboards, metals, glass and newsprint.   
Our recycling contractor advised the Municipality in a letter and in person at the August 21, 2019 Council Meeting that he was running out of storage space at the facility in Frank.  One of Canada's largest buyers of recycled material, China has stopped taking certain types of recyclables, which has caused widespread stockpiling of recycled products in many jurisdictions across North America.  On August 21, 2019, Council passed a motion to allow our Contractor to use some Municipal land to store the recyclables in the hope the market will rebound.  Since then, Council has actively been lobbying higher levels of government regarding our recycling crisis in the Crowsnest Pass.
Unfortunately, due to the poor market for recyclables, our contractor has served the Municipality notice that he will cease providing the recycling service to the Municipality effective October 6, 2019.  The Municipality will issue a Request for Proposals (RFP) and start the process of locating another contractor, however based on the widespread issues facing other communities it is not known when and if one can be located. 
As such there will be a disruption in recycling service for an unknown length of time for cardboard, newsprint, plastic, metal and glass.  The bottle depot will continue to operate as normal.  During this disruption, the recycling fee on the Municipal Utility Bill will not be levied starting in October.  The Crowsnest Pass/Pincher Creek Landfill will continue to accept recycled items.
Municipal Council will continue to look at possible solutions so we can bring this program back to our residents.  We would like to thank Pass Beverages for their years of service providing recycling to the Crowsnest Pass.
Press Release - Albert Stella Memorial Arena Closure
January 29, 2019 - For Immediate Release – The Municipality retained an engineering consultant to perform a structural analysis on the Albert Stella Memorial Arena to determine the structural integrity of the building.  The results of that analysis are that the building has been deemed unsafe for public use under wind and snow loads which could result in catastrophic failure under these conditions.
Upon receipt of this report, this item was added to the Special Council Meeting agenda this morning and Council passed a motion to close the Albert Stella Memorial Arena effective immediately in order to ensure the safety of the user groups and staff.   The Municipality realizes this facility provides important recreational opportunities to the community, however, public safety must come first.
The Municipality will be working with affected user groups to try to accommodate their activities at other facilities in the meantime.  In addition, the Municipality will be exploring options on how to replace this important facility within the community.
Press Release – 2019 Budget
December 14, 2018 - For Immediate Release – Council is pleased to announce they have ratified the 2019 budget.  The approved budget is an 18 million dollar operating budget for 2019 and a 17 million dollar Capital Budget over 2019-2020.  Included in the budget is 31 new initiatives totaling in excess of 2 million dollars.  The budget includes a tax increase of 2.5% for residential, 3.5% for commercial and 1.5% in utilities.  Mayor and Council have provided that they are very proud of this budget, they are committed to seeing improvement and positive changes in our community and are very pleased to deliver a budget that will see us actioning 31 new initiatives in the new year. 
The approved Budget package, which contains the initiatives will be on the website shortly, as soon as the requested changes from Council are incorporated from the December 11 and 14 meetings. 
PPK OPENING DAY NOVEMBER 17, 2018
Powderkeg Ski Area, located in the Crowsnest Pass, will open its 80th ski season on Saturday, November 17, 2018 at 10am. Following last year's historic early open, Pass Powderkeg is continuing its commitment to offer eager skiers and snowboarders from Southern Alberta and SE British Columbia the chance to get back on the slopes in November. The day will kick off with a short ceremony outside the PPK Lodge to welcome back winter. Chef Alejandro Verdi and his team will have the kitchen open all day serving up great food.
PRESS RELEASE - CROWSNEST SPORTS COMPLEX ICE PLANT
August 24, 2018 - For Immediate Release – Council and administration have been working with staff, consultants, and industry experts to identify the needs and risks for the Crowsnest Sports Complex ice making plant.
After extensive consultation and review of the report generated from the Fernie Memorial Arena fatalities, Council has directed Administration to conduct the following:  $50,000 to $70,000 in immediate repairs to the Crowsnest Sports Complex, with the goal of having ice available for the users on October 1, 2018, as well as an immediate plan of placing a new ice plant in the new initiatives for the 2019 Budget.
As a result of this decision, it is anticipated that ice will be available on Monday, October 1, 2018 for the skating rink and the following week for the curling rink.
The Municipality will be hosting a meeting early next week for the regular ice user groups to address concerns and answer questions.
PRESS RELEASE - WILDFIRE NEAR PASSBURG - August 14 at 1:00pm
FOR IMMEDIATE RELEASE August 14, 2018 1:00pm –– The Wildfire near Passburg is responding well to air and helitack suppression.  The fire is now Being Held and Municipal fire crews are standing down.
Forestry air and helitack crews will remain on scene until the fire is completely out.
The Evacuation Alert for Passburg Drive residents has been lifted.
PRESS RELEASE - WILDFIRE NEAR PASSBURG
FOR IMMEDIATE RELEASE August 14, 2018 11:25am –– A new wildfire has been discovered approximately 5-10 km north east of the Crowsnest Pass on the south facing slope of the Livingstone Range.
AN EVACUATION ALERT has been issued as a precaution for residents of Passburg Drive.  At this time, the fire is NOT moving toward those homes.
Forestry crews have been dispatched to the area.
As the area is remote, air support is being mobilized; Forestry and Municipal ground crews are on standby to support as needed.
The Municipality will continue to closely monitor this situation and provide updates as necessary.
PRESS RELEASE: March 7, 2018 - Patrick Thomas has been hired as Crowsnest Pass' new Chief Administrative Officer
Mayor Painter and Council for the Municipality of Crowsnest Pass are pleased to announce that Patrick Thomas has accepted the position of Chief Administrative Officer for the Municipality.  Patrick commenced his employment in the position of Director of Development, Engineering, and Operations with the Municipality in April 2014 and was appointed as the Acting Chief Administrative Officer in July 2017.  His prior working background was with the City of Leduc and the private industry in the area of geotechnical, materials and environmental engineering.  Patrick's professional background includes a designation as a Professional Engineer and a Certified Local Government Manager.
Please join us in welcoming Patrick to his new position!