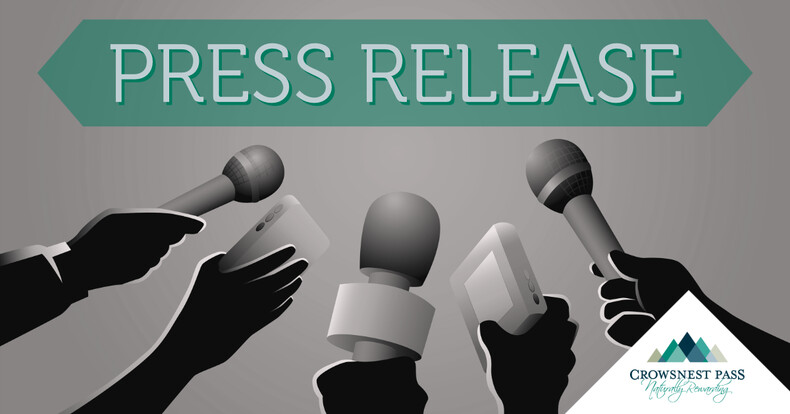 Press Release – 2020 Official Candidates – Office of Councillor
September 15, 2020
2020 Official Candidates – Office of Councillor
Girhiny, Glen
Strickland, Oliver
Voters will elect one (1) Councillor in the 2020 Municipal By-Election.  Please visit https://www.crowsnestpass.com/municipal-government/municipal-elections/2020-by-election for polling station locations and Institutional Vote details.
Election Day is Monday, October 26, 2020 from 10:00am to 8:00pm. 
Advanced Poll is Wednesday, October 21, 2020 from 10:00am to 8:00pm.
Press Release – Municipal By-Election 2020
August 19, 2020 - For Immediate Release – At the August 18, 2020 Council meeting, the Municipality of Crowsnest Pass Council passed a motion to hold a by-election on Monday, October 26, 2020. 
This by-election is being held in accordance with Section 162 of the Municipal Government Act to fill the vacancy created on February 28, 2020.
Appointment of Returning Officer
Natalie Dzioba was appointed to the Returning Officer position for the upcoming Municipal By-Election.  Natalie joins us once again after presiding as our Returning Officer for the 2017 Municipal Election.  Welcome back Natalie!
Nomination Day – Monday, September 14, 2020
Natalie's first order of business was to provide official notice that Nomination Day is Monday, September 14, 2020. 
Candidates seeking to run for the vacant Councillor position must complete a Nomination Paper and Candidates Acceptance Form and a Candidate Information Form (for candidates accepting campaign contributions) and bring them to the Municipal Office (8502 – 19 Avenue, Coleman, AB), between the hours of 8:30am and 4:30pm beginning August 19, 2020 until 12:00pm on September 14, 2020.
The required forms, candidate eligibility and responsibility information, and municipal election details are available from the Crowsnest Pass website at https://www.crowsnestpass.com/municipal-government/municipal-elections/2020-by-election or by visiting the municipal office.
Candidate Information Session
Interested in running in the upcoming municipal by-election or want to get involved in municipal government through board and committee opportunities? We are working on plans for a candidate information session and will announce dates once a format and process is planned.
Candidates and voters are encouraged to contact the Returning Officer with any Municipal Election questions:
Natalie Dzioba, Returning Officer
natalie.dzioba@crowsnestpass.com
(403) 562-8833
Pass Powderkeg Press Release - June 11, 2020
June 11, 2020 – For Immediate Release - Pass Powderkeg Ski Area, located in Crowsnest Pass, is excited to announce the extension of the Lower T-Bar lift. This extension will allow guests the opportunity to ski or ride from a new off-load area approximately 50-80m above the current off-load, improving the skiing and riding experience. The t-bar, originally installed in 1980, replaced a homemade ropetow constructed in the early 1950's.
Work to add the additional tower and length has begun with major construction to take place in August. This project will see an additional tower built to span the new length, a haul rope extension and extra spring boxes added.
"The extension of the Lower T-bar marks a major step to improve the ski and ride-ability of Pass Powderkeg Ski Area, and has been a long suggested project. I look forward to welcoming our guests back with this "new" lift!" said Katherine Seleski, Manager of Pass Powderkeg Ski Area.
This project is one of two major area enhancements in 2020, the second of which is the purchase of a 2020 Prinoth Bison X snowcat. The new snowcat will replace a 1991 Bombardier 400, with increased efficiency, added features and will provide improved terrain park and slope quality.
Any questions or comments regarding Pass Powderkeg Ski Area or relevant projects can be sent to: Katherine Seleski, Manager of Pass Powderkeg at manager
@passpowderkeg.com
Pass Powderkeg is a municipally owned, not for profit facility located in the Crowsnest Pass, Alberta. Heralding back to a time without fancy lifts or humongous lodges, Pass Powderkeg offers a family friendly, easy going ski or snowboarding experience right in the Canadian Rockies. Offering affordable recreation for families within the Crowsnest Pass and throughout Southern Alberta since 1938, have you come to explore PPK yet?
The Municipality considers the Pass Powderkeg one of its important assets and is proud to invest in this infrastructure to enhance the experience at the facility for many years to come.
Press Release – Municipal Council to defer penalties on Utility and Property Tax Payments
April 1, 2020 - For Immediate Release – To assist residents in the Crowsnest Pass who are financially affected by the COVID-19 pandemic, Municipal Council made a motion at the March 31 Council Meeting to defer the penalties for Utility and Property Tax payments as follows:
2020 tax penalties will start accruing September 1, 2020 instead of July 1, 2020
Utility penalties will be suspended April 1, 2020 and resume July 1, 2020
The Municipality still encourages anyone who can pay their bills to continue to do so to help the Municipality maintain their cash flow for operations.  Please note that this is a deferral for penalties, the regular charges for utilities and property taxes will still be levied as per usual.
Press Release – COVID-19 Update- Municipal office and playgrounds closed
March 24, 2020 - For Immediate Release – Effective immediately, the Municipal Office will be CLOSED to public access to help protect the health and safety of our employees and the public.  We will still be in the office to assist you via phone or email.  If you have documents or cheque payments to bring in, you can drop them off in our drop-box located at the front of the building.
Additionally, under the recommendations of AHS and ARMA, all playgrounds/play structures are CLOSED to the public.
Our community walking and hiking trails remain open at this time; however, it is important that you continue to maintain social distancing.  Stay at least 2 meters away from other users on the trail and do not use it as an opportunity to get together in a group. 
We apologize for the inconvenience this may cause and appreciate your understanding as we work together to protect the health of our community.
We will be continuously monitoring the situation and providing updates as needed.
For up-to-date information, instructions, and resources about COVID-19, please visit a reliable source such as Government of Alberta (alberta.ca), Alberta Health (https://www.albertahealthservices.ca/topics/Page16944.aspx), Health Canada (https://www.canada.ca/en/public-health/services/diseases/coronavirus-disease-covid-19.html) and the World Health Organization (https://www.who.int/emergencies/diseases/novel-coronavirus-2019).
If you think you've been exposed to COVID-19 or are experiencing symptoms, stay home, self-isolate and call Health Link 811 if your symptoms worsen.
Press Release – Councillor Resignation
March 4, 2020 - For Immediate Release – The Municipality of Crowsnest Pass regretfully announces the resignation of Mr. Gordon Lundy as municipal councillor effective February 28, 2020.  Councillor Lundy informed Council of his intention to resign from Council due to personal reasons. Council was advised of his resignation at the March 3, 2020 Council Meeting.
Municipal Administration and Council recognize Mr. Lundy for his valuable contributions to the Crowsnest Pass since his election to Council in October 2017 and wish him all the best. 
In accordance with Section 162 of the Municipal Government Act, a by-election to fill the vacancy will be held by June 27, 2020 or sooner, as determined by Council.  Administration will bring further information to Council on the logistics of the by-election so a date can be set.
Press Release – Strategic Plan 2019-2024
November 12, 2019 - For Immediate Release – The Municipality Strategic Plan 2019-2024 has been approved by Council.   The plan identifies the vision, mission and values for the organization as well as seven goals where the Municipality will direct its energy and resources over the next several years. 
The Plan was developed through eight planning sessions with Council, engagement of 30 different stakeholders across 20 different sectors and a brainstorming session with staff.  Now that the plan is finalized and approved, the Municipality will begin the implementation plan where initiatives and actions will be brought forward to support the strategies, which will then be assigned metrics for measuring their success.    The Municipality's immediate focus will be on the strategies that are placed in the 'now' category within the plan.  The strategic plan will be used during the 2020 budget deliberations to ensure that new items brought forward are aligned.  
Strategic Planning within a Municipality is an ongoing process, progress towards achieving the plan's objectives will be assessed annually, and the plan will be continually reviewed to make sure it is meeting the shifting needs of our community.
View the Municipal Strategic Plan 2019-2024 here.
Press Release – Change in Governance with Pass Powderkeg Ski Society - October 23, 2019
October 23, 2019 - For Immediate Release – The Municipality of Crowsnest Pass owns the Pass Powderkeg Ski Hill in Blairmore.  Currently, the Ski Hill is operated through an operating agreement with the Pass Powderkeg (PPK) Ski Society.  The Society voted at their September 26, 2019 Society Meeting to change their governance structure, transitioning away from being an operating board.  This change would take effect on November 1, 2019 in advance of the 2019/2020 Ski Season. 
The Municipality and the Society have had ongoing dialogue on their structure and are both in agreement that this change would be mutually beneficial.  The Municipality received correspondence from the Society on October 3, 2019 indicating that they wish to pursue an early termination of the operating agreement and move to a new structure where they will continue to provide service to the Ski Hill as an advisory board.   The Society writes that:
the Society believes that the operating agreement no longer actually describes our actual working contribution to the ski hill given that the operation of the facility has significantly grown in complexity since the time the agreement was made.  This discrepancy has resulted in role confusion and unclear organizational authority structure.  We believe the facility will be better served by its formalized integration into the Municipality's administration structure as a stand-alone recreational facility.  The society doesn't wish to sever its relationship to the ski hill or the Municipality, in fact, we wish to increase our contribution to the facility [in this new advisory role]
At the October 22, 2019 Council Meeting, Council discussed and agreed to the early termination request from the Society.  Therefore, on November 1, 2019 the Municipality will assume operation of the ski hill in a similar manner as our other recreational facilities like the Crowsnest Complex and MDM Community Centre and the Society will be transiting into a new capacity to support the success of the hill. There will be no change to current and proposed 2019/2020 staffing levels or to the operational plans for the year.  The Ski Hill Manager, seasonal and term employees that are in place will remain in their roles.
The Municipality wishes to thank the society for their dedicated service to the hill over the years, and we look forward to working with them in this new capacity.   
Press Release – Disruption in Recycling Service - September 18, 2019
September 18, 2019 - For Immediate Release – The Municipality currently contracts out recycling to a third-party business who provides the collection bins and organizes the recycling of plastics, cardboards, metals, glass and newsprint.   
Our recycling contractor advised the Municipality in a letter and in person at the August 21, 2019 Council Meeting that he was running out of storage space at the facility in Frank.  One of Canada's largest buyers of recycled material, China has stopped taking certain types of recyclables, which has caused widespread stockpiling of recycled products in many jurisdictions across North America.  On August 21, 2019, Council passed a motion to allow our Contractor to use some Municipal land to store the recyclables in the hope the market will rebound.  Since then, Council has actively been lobbying higher levels of government regarding our recycling crisis in the Crowsnest Pass.
Unfortunately, due to the poor market for recyclables, our contractor has served the Municipality notice that he will cease providing the recycling service to the Municipality effective October 6, 2019.  The Municipality will issue a Request for Proposals (RFP) and start the process of locating another contractor, however based on the widespread issues facing other communities it is not known when and if one can be located. 
As such there will be a disruption in recycling service for an unknown length of time for cardboard, newsprint, plastic, metal and glass.  The bottle depot will continue to operate as normal.  During this disruption, the recycling fee on the Municipal Utility Bill will not be levied starting in October.  The Crowsnest Pass/Pincher Creek Landfill will continue to accept recycled items.
Municipal Council will continue to look at possible solutions so we can bring this program back to our residents.  We would like to thank Pass Beverages for their years of service providing recycling to the Crowsnest Pass.