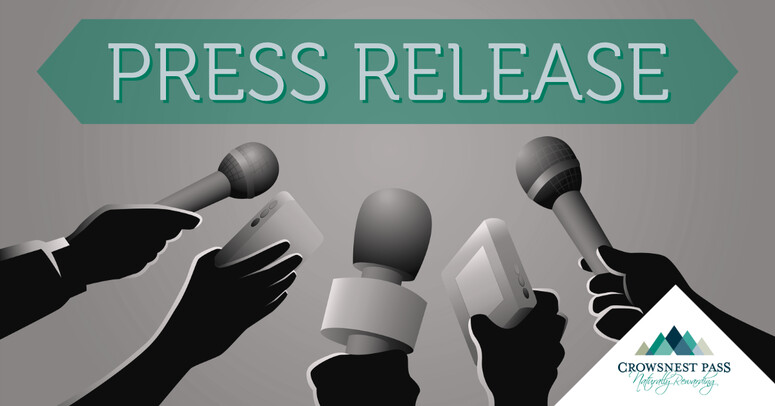 Press Release - Change in Governance with Crowsnest Pass Community Pool Society
September 29, 2022 - For Immediate Release – The Municipality of Crowsnest Pass owns the Crowsnest Pass Community Pool in Blairmore.  Currently, the Pool is operated through an operating agreement with the Crowsnest Pass Community Pool Society (aka Pass Pool Board).  
Our Pool has significantly grown in usership, complexity of operation, and safety requirement for both staff and pool users.  At the September 27, 2022 Council Meeting, Council discussed and agreed to transition the operation of the Pass Pool to the Municipality.  As a result, the Municipality will assume operation of the pool in a similar manner as our other recreational facilities like the Pass Powderkeg Ski Hill, Crowsnest Complex, and MDM Community Centre and the Society will be transitioning into a new capacity to support the success of the pool.  This change will take effect in six (6) months' time, after the notice required to terminate the Pass Pool Operating Agreement has passed.
The Crowsnest Pass Pool Society has been an asset to the operation of the Pool for many years.  The Municipality wishes to thank the society for their dedicated service to the Pool during this time, and we look forward to working with them in this new capacity.
Press Release – GMHL Expansion
May 4, 2021 - For Immediate Release – The GMHL Junior A Hockey League and the Municipality of Crowsnest Pass are pleased to announce that Crowsnest Pass has been approved as an expansion host community! A multi-year lease has been executed and the GMHL West Division is excited to expand their footprint to Southern Alberta.
GMHL West Division Executive Director, Dr. Derek Prue says "after considerable consultation with the community of Crowsnest Pass, we have been extremely impressed by the demographics of the community, the facility, and the considerable amenities available to both our league as well as the players looking to advance their careers at the Jr. A level".
With respect to the agreement bringing Jr. A hockey back to Crowsnest Pass, Mayor Blair Painter adds "that this is a tremendous opportunity for both our community and the league.  The minor hockey program has been on a considerable decline since the loss of the Timberwolves team and hopefully with a competitive team back, this will help to inspire a new wave of players.  We wish them great success"
The league is now working through the logistics of an expansion with plans to have the new team join the 2023/24 season.
Press Release – 2021 Official Candidates – Office of Councillor
September 21, 2021
2021 Official Candidates – Office of Councillor
Filipuzzi, Dave
Fletcher, Taralynn
Girhiny, Glen
Glavin, Doreen
Kubik, Vicki
Sygutek, Lisa
Ward, Dean
Voters will elect six (6) Councillors in the 2021 Municipal Election.  Please visit https://www.crowsnestpass.com/municipal-government/municipal-elections/2021-municipal-election for polling station locations and Institutional Vote details.
Election Day is Monday, October 18, 2021 from 10:00am to 8:00pm. 
Advanced Poll is Tuesday, October 12, 2021 from 10:00am to 8:00pm.
Blair Painter was elected by acclamation to the Office of the Mayor on September 20, 2021.
Senate Election and Referendum
The Senate Election and Referendum Vote will take place on October 18, 2021, in conjunction with the 2021 Municipal Election.  Details can be found at https://www.elections.ab.ca/senate-and-referendum/
Press Release – WILDLIFE ATTRACTANTS IN BLAIRMORE
September 20, 2021 - For Immediate Release – The Protective Services Enforcement Branch would like to notify the public that the department has received an overwhelming number of calls, complaints, and requests for service from Members of the public regarding wildlife attractants particularly between 113 Street and 129 Street (Centre Access) on 21 Avenue and 22 Avenue in Blairmore.
Officers are aware that a young, determined, and hungry black bear has been seen in this area and we have been made aware that several residences along 21 Avenue and 22 Avenue have some type of wildlife attractant in their yard. Specifically, Officers have been notified of several apple trees that were ripe several days ago and have now begun to rot. In addition, Officers were made aware that a resident may be using baking sheets (or similar) to place bird seed or bird feed out on the ground in their backyard.
We would like to remind the public that once something has been determined to be a wildlife attractant, you must remove the item(s) immediately or you could be charged pursuant to the Animal Control Bylaw.
In an effort to "Keep our Wildlife Wild", Community Peace Officers will be proactively patrolling throughout the area identified above during the next several days. Peace Officers will also be working closely with the Crowsnest Pass Bear Smart Association and Alberta Fish and Wildlife Officers to deter the bear seen in the area and encourage residents to remove anything that may be a wildlife attractant. Residents may also hear "bear bangers" and other deterrence methods in use throughout the Municipality over the next several days and weeks and are encouraged to allow officers and volunteers the space to effectively deter the animal from becoming habituated.
If residents see a bear in their neighborhood, please contact the Alberta Report a Poacher Line (RAP Line) at 1-800-642-3800 or Crowsnest Pass Bear Smart Association at 403-563-8723.
If you would like to report a Wildlife Attractant, please visit the Municipality of Crowsnest Pass website to complete an online submission bylaw complaint.
Press Release – PROVINCIAL RESTRICTIONS EXEMPTION PROGRAM IMPLEMENTATION
September 16, 2021 - For Immediate Release – Beginning September 20, the Municipality will be implementing the Restrictions Exemption Program (REP) as set out by the province at the MDM Community Centre.
In order to meet the restrictions set out by the province, all patrons aged 12 and up wishing to access the MDM Community Centre will be required to show one of:
proof of vaccination

single dose accepted between September 20 and October 25 if received 2 weeks before time of service
double doses required after October 25

documentation of a medical exemption
proof of a privately paid negative PCR or rapid test within 72 hours of service (tests from AHS or Alberta Precision Laboratories not allowed)
We understand many people are experiencing difficulties in acquiring some of this documentation due to the province's website access.  To assist you with this, you can contact your local pharmacist, the Health Unit (403-562-5030) or sign up for your MyAlberta Digital ID (https://account.alberta.ca/).
GYMNASTICS  
At this time, the Municipality will not be implementing the REP for Gymnastics as our users are under the age of 12.  We ask parents to pick up and drop off children at the front door. However, in the special circumstances that require parents to join their children in certain programs, parental access will be permitted providing the parents can meet REP requirements listed above.
ELKS HALL AND CROWSNEST SPORTS COMPLEX
The Elks Hall and Crowsnest Complex will be reviewed on a case-by-case basis through our local community services office until regular seasonal programming resumes at those locations.  Once regular programming resumes, we will provide an update.
MUNICIPAL OFFICE
At this time, the Municipal office in Coleman is not required to implement the REP.  Mandatory masking remains in place.
If you are having difficulty accessing your health records, please contact us at 403-562-8833 and we will discuss alternative ways to assist you.
We appreciate your patience and cooperation as we struggle through these difficult and ever-changing situations.
Press Release – Former Hospital Site Sale
July 19, 2021 - For Immediate Release – The Municipality of Crowsnest Pass is proud to announce that we have an unconditional purchase with 293038 Alberta Ltd to sell the 6.25 acres at 10509 – 20 Avenue, Blairmore (the former hospital site on Highway 3).
293038 Alberta Ltd is a real estate developer located in Lethbridge. They have previously constructed Westgate in west Lethbridge and is the owner of numerous retail and industrial properties in Lethbridge.
293038 Alberta Ltd has confirmed Dairy Queen, Edo Japan, a cannabis retailer, as well as a Wyndham Branded Hotel as users on the site.
Negotiations with other users are ongoing and they hope to have further announcements in the next month. Construction on the site could start as early as October 2021.
Press Release - Grassy Mountain Coal Project Joint Review Panel Recommendation
We have received notification that the Joint Review Panel has declined Benga Mining's application for the Grassy Mountain Coal Project.  The panel found that it was not in the best interest to move forward because of the potential adverse environmental effects on surface water quality, westslope cutthroat trout and their habitat, whitebark pine, rough fescue grasslands, and vegetation species and community biodiversity.
We are disappointed that this important project was not able to meet the necessary environmental protection levels to move forward.  Quality employment opportunities are important to the Municipality, and we are disappointed that those opportunities will not be realized.  This will definitely impact our economy, however, without clean water, our beautiful community would lose its naturally rewarding livability.
Water quality is important to us, our residents, and all citizens that rely on the Oldman Watershed drainage system and this review process is in place to ensure clean water and aquatic life are protected. 
We thank the Joint Review Panel for their due diligence and hard work reviewing this project.
Grassy Mountain coal project recommendation: Joint statement
https://www.alberta.ca/release.cfm?xID=7939516C5DF3D-B1F1-2B7C-91A0356266B8E0FC
Joint Review Panel for Grassy Mountain Coal Project Concludes its Review
https://iaac-aeic.gc.ca/050/evaluations/document/139410?&culture=en-CA
Press Release – Highway 3 Interim Improvements
March 5, 2021 – For Immediate Release – The Municipality of Crowsnest Pass is pleased to announce that the Highway 3 Interim Improvements project is slated to begin on March 15, 2021.  This project is a partnership with the Government of Alberta Ministry of Transportation and the Municipality of Crowsnest Pass and will see improvements at three locations along the highway throughout the community:
Highway 3 & Highway 40 intersection improvements are anticipated to run from March 15, 2021 to June 30, 2021 and will include geometric roadway improvements and traffic signal installation.
Highway 3 & 213 Street intersection improvements are anticipated to run from April 15, 2021 to June 30, 2021 and will include the installation of traffic signals.
Highway 3 through Frank improvements are anticipated to run from May 15, 2021 to June 30, 2021 and will include paving and lane marking to allow for a center two-way left turn lane.
Traffic will be disrupted throughout the duration of the project; however, detours are not anticipated.
For your safety please obey all construction signage.
We thank you for your co-operation and assistance.
Press Release – Frank Wastewater Treatment Plant
October 27, 2020 - For Immediate Release – The Municipality of Crowsnest Pass is pleased to announce our Frank Wastewater Treatment Plant Upgrade that is being funded as part of the Investing in Canada Infrastructure Program (ICIP) which includes $7.8 million in funding from the Government of Canada's Green Infrastructure Stream (GIS) and nearly $6.5 million in funding from the Province of Alberta's Alberta Municipal Water/Wastewater Partnership (AMWWP) that will compliment the $5.2 million capital investment from the Municipality.
This funding is for Phase 1 & 3, which will see the construction of a new clarifier, new headworks and screening, a bulk water fill station, sewage receiving station, and an RV sani-dump, along with some building upgrades.
We have also received additional funding through the Province of Alberta's Alberta Municipal Water/Wastewater Partnership (AMWWP) in the amount of up to $1.86 million for Phase 4 for the inclusion of tertiary treatment.
This is a very important project for the community and as such, while awaiting final funding announcements, design work was initiated in 2018, contractor pre-qualification was completed in 2019, and the tender for short listed contractors concluded on October 26, 2020.  Construction is slated to begin late 2020/early 2021.
Phase 2, the rebuild of the existing clarifier, will occur at a later date once the new clarifier is fully commissioned.  Funding for this phase has not be secured at this time.
Pass Powderkeg Press Release - June 11, 2020
June 11, 2020 – For Immediate Release - Pass Powderkeg Ski Area, located in Crowsnest Pass, is excited to announce the extension of the Lower T-Bar lift. This extension will allow guests the opportunity to ski or ride from a new off-load area approximately 50-80m above the current off-load, improving the skiing and riding experience. The t-bar, originally installed in 1980, replaced a homemade ropetow constructed in the early 1950's.
Work to add the additional tower and length has begun with major construction to take place in August. This project will see an additional tower built to span the new length, a haul rope extension and extra spring boxes added.
"The extension of the Lower T-bar marks a major step to improve the ski and ride-ability of Pass Powderkeg Ski Area, and has been a long suggested project. I look forward to welcoming our guests back with this "new" lift!" said Katherine Seleski, Manager of Pass Powderkeg Ski Area.
This project is one of two major area enhancements in 2020, the second of which is the purchase of a 2020 Prinoth Bison X snowcat. The new snowcat will replace a 1991 Bombardier 400, with increased efficiency, added features and will provide improved terrain park and slope quality.
Any questions or comments regarding Pass Powderkeg Ski Area or relevant projects can be sent to: Katherine Seleski, Manager of Pass Powderkeg at manager
@passpowderkeg.com
Pass Powderkeg is a municipally owned, not for profit facility located in the Crowsnest Pass, Alberta. Heralding back to a time without fancy lifts or humongous lodges, Pass Powderkeg offers a family friendly, easy going ski or snowboarding experience right in the Canadian Rockies. Offering affordable recreation for families within the Crowsnest Pass and throughout Southern Alberta since 1938, have you come to explore PPK yet?
The Municipality considers the Pass Powderkeg one of its important assets and is proud to invest in this infrastructure to enhance the experience at the facility for many years to come.