May 2023 Enforcement Stats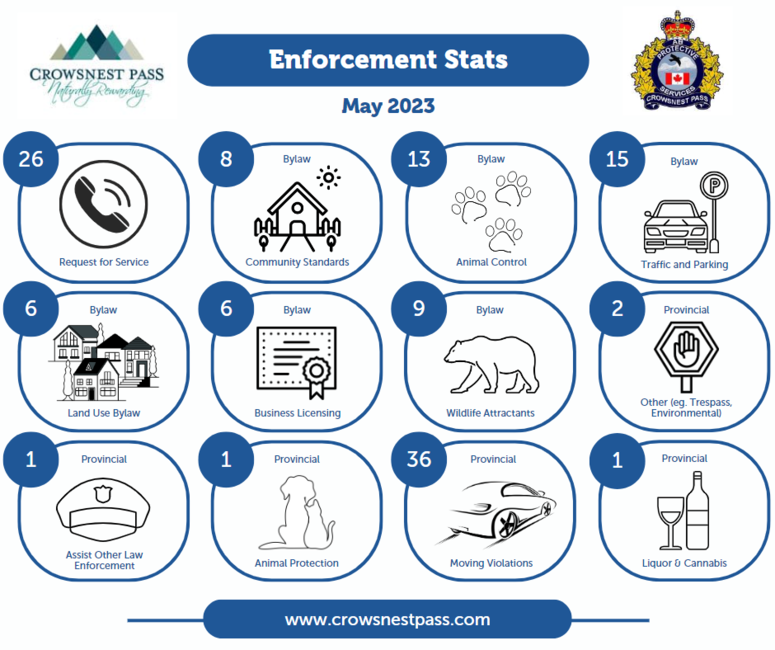 Community Peace Officer Program
The Community Peace Officers provide a broad range of duties and services to the residents and visitors of the Municipality. Departmental duties and responsibilities are reviewed annually by Administration and Council.  The establishment of operational priorities is based primarily on environmental scanning and continual liaison with internal and external agencies such as the Citizens on Patrol, Municipal Council, the general public, and local police services.
By working collectively with the municipal government, local RCMP, and other law enforcement agencies, the Peace Officer Division strives to keep abreast of the issues and concerns in the Crowsnest Pass. This is done through crime prevention, public education/relations, preventative patrols, traffic enforcement and road safety protective initiatives. The Community Peace Officers' high visibility throughout our community forms a critical component to our Community Peace Officer crime prevention program.
Proactive, preventative patrols during all hours of the day and night with our local RCMP and Citizens on Patrol members undoubtedly contribute to the deterrence of crime in our community. The Peace Officer Department also participates in community awareness programs, which invites members of the communities to become involved in identifying and solving problems, answering questions, addressing concerns, or expanding on ideas that may prevent crimes or enhance the safety of our streets and community. In addition, the Peace Officers are active in the education of our youth regarding safety. Presentations are done in our elementary and secondary learning institutions throughout the year.  The Municipality of Crowsnest Pass employs three full-time Community Peace Officers (CPOs).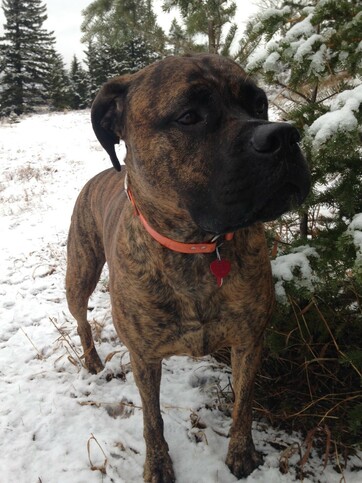 Pet Registration
As per Animal Control Bylaw 991, 2017 (see Bylaws to review the full bylaw):
1.1  No person shall own, keep, or harbor any dog or cat within the Municipal limits unless such a dog or cat is licensed as provided herein.
1.3  Every owner of a dog or cat, over the age of three months, within the limits of the Municipality shall:
1.3.1  obtain a license for such dog and cat on the first day on which the Crowsnest Pass Municipal Office is open for business after the dog becomes three (3) months of age;
1.3.2  obtain a license on the first day on which the Crowsnest Pass Municipal Office is open for business after he/she becomes owner of the dog;
1.3.3  obtain a license for a dog or cat notwithstanding that it is under the age of three months, where the dog is found to be running at large;
1.6  Every owner shall ensure that the license is securely fastened to a choke chain, collar, or harness, this must be worn by the dog, or cat at all times that the dog or cat is off the owner's property. If the tag becomes lost, the owner of a dog or cat shall obtain a replacement license.
1.8  No person shall give false information when applying for a license pursuant to this bylaw.
The fines associated for the above offences are as follows:
1.1 - Failing to obtain a license for a licensable dog or cat:  $100
1.6 - Failing to securely fasten license to dog or cat:  $50
1.8 - Providing false information when applying for a license:  $250
Pet Registration Process
Dog and cat tags are available at the Municipal Office, you will be asked to provide information about you and your pet.  The information collected will aid the Community Peace Officer in identifying and returning your animal as soon as possible should they be turned in or picked up running at large, preferably without the need to impound. 
Animal tags are now available as one-year licenses, three-year licenses, or lifetime licenses.

Altered Dogs:
One-year license:  $25

Three-year license:  $60

Lifetime license:  $100
Unaltered Dogs:
One-year license:  $50

Three-year license:  $120

Lifetime license:  $200
Cat License - Lifetime:  $25
Replacement tags are $5.