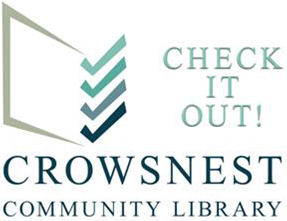 Crowsnest Community Library
Library is located at 2114 - 127 Street in Blairmore.
Contact is 403-562-8393 or help@crowsnestpasslibrary.ca
Hours of service:                 
9am - 7pm Tuesday - Friday
12pm - 4pm Monday and Saturday
Closed Sunday
Membership is free at the Crowsnest Community Library.
With a Library Membership you can:
Borrow books, movies, magazines, audiobooks, e-books, e-reader, etc.
Place holds and renewals online or with a library staff member.
Access more resources through Chinook Arch and the Alberta Library.
Library members have access to:
Shared collection of more than 900,000 library materials (print & electronic).
Provincial resources through The Alberta Library.
Authoritative online reference materials.
Downloadable e-books, audiobooks, and magazines.
Library resources that can be accessed with or without a membership:
Free access to computer workstations and wireless services.
Videoconferencing for meetings, training, workshops and more.
Meeting rooms for group and individual use.
Printing, photocopying, scanning, and faxing.
Programs offered at the Library.
Library programing:
Children's Story Time for ages 3-5, Wednesdays from 1 - 2 pm (Sept - June)
TD Summer Reading Program for ages 3-12 runs 6 weeks (July - Aug)
Special programs (eg. Halloween, Easter, PJ Party, Video conferences, etc.)
For further information please visit our CNP Recdesk.