Crowsnest Community Market
Sole Survivor Foot Race
The Sole Survivor Foot Race will take place July 13, 2019.  Course details can be found at www.solesurvivor.ca. There will be 2.5km, 5km and 10km race options. This is a perfect opportunity to give trail running a try for those that have never ventured off into the trees but have always wanted to.
Visit www.solesurvivor.ca or "Like" Sole Survivor Foot Race CNP on Facebook for more information.
Rumhead Bike Fest & BC Enduro
Doors Open & Heritage Festival
Doors Open Heritage Festival is held annually in the long weekend in August.  Events include the Bellevue Old Fashioned Street Festival, Photo Contest, Teddy Bears' Picnic, Crowsnest Country Market, "Booze and Bars" Historic Bus Tour and several tours throughout the community. 
Crowsnest Pass Doors Open & Heritage Festival Website
Harvest of Memories Gala Fundraiser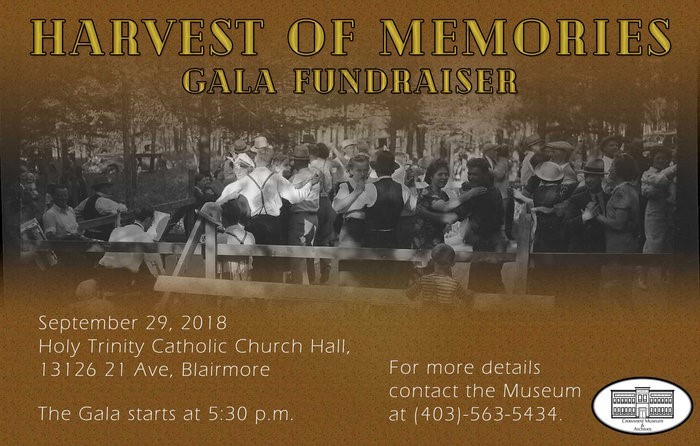 Join the Crowsnest Museum for a fun evening of music, food, and fun. For more information please contact the Crowsnest Museum.
For more details, call the museum at 403-563-5434.
Alberta Culture Days
September 28 - 30, 2018
Starting in the early 1900s, people came from eastern and western Europe, the United States, and other parts of Canada to make a living in the coal mining valley of the Crowsnest Pass. They brought cultural traditions with them that have made the area a hotbed of artistic and musical creativity. Culture Days showcases the vibrant culture of the Crowsnest Pass amid the breathtaking beauty of the Canadian Rocky Mountains.
Please visit www.frankslide.org for details.
Family Halloween Spooktacular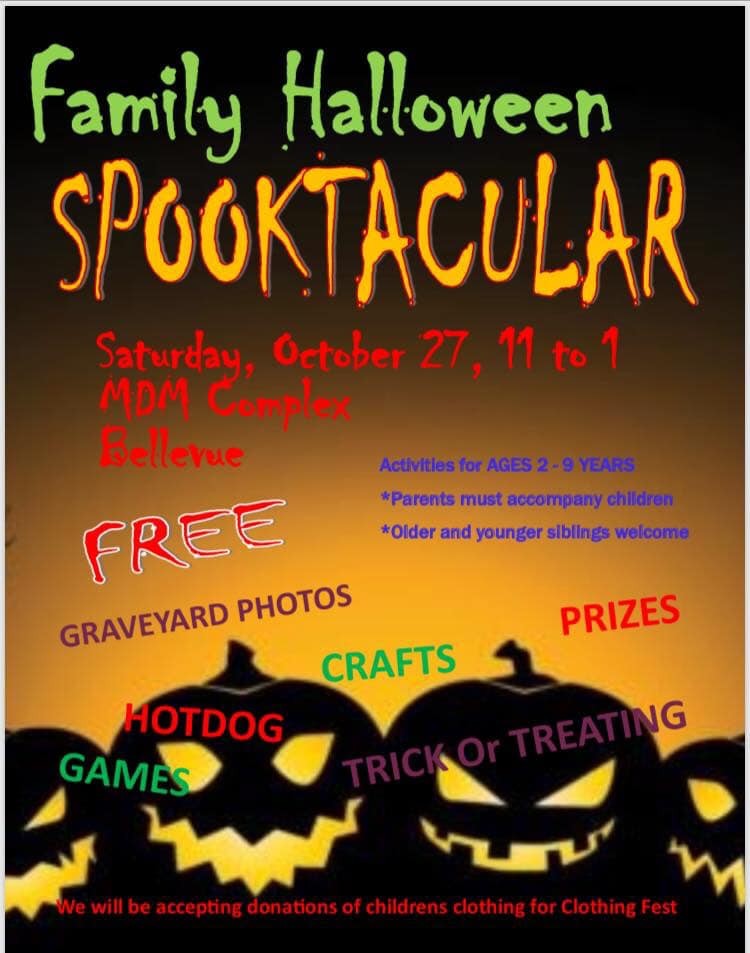 Saturday, October 27, 2018
11:00am – 1:00pm
MDM Community Centre
2802 - 222 Street, Bellevue
Come dressed in your costumes and have some fun! There will be hot dogs, free photographs, crafts, Trick-or-Treating, prizes, and games for children aged 2 to 9 years old and their parents.
Pumpkins in the Park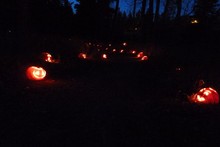 Pumpkins in the Park is held annually on November 1.  Watch Facebook for jack-o-lantern drop-off locations and times.  Come for a stroll through Flumerfelt Park along the "Path of Pumpkins"

Presented by the Coleman Community Society

Flumerfelt Park, Coleman
November 1, 2016
7:00pm to 9:00pm

FREE HOT CHOCOLATE
Christmas in the Mountains
Crowsnest Pass Chamber of Commerce proudly presents Christmas in the Mountains, a 3 day celebration welcoming the opening of the Christmas Season for the whole family! Events include an Official Town light up, late night shopping Friday evening, Christmas parade with prizes for best floats, pictures with Santa for pets and children, and SO MUCH MORE!
For more information please see http://www.christmasinthemountains.ca/
Mountain Spirit Festival
Christmas Bird Count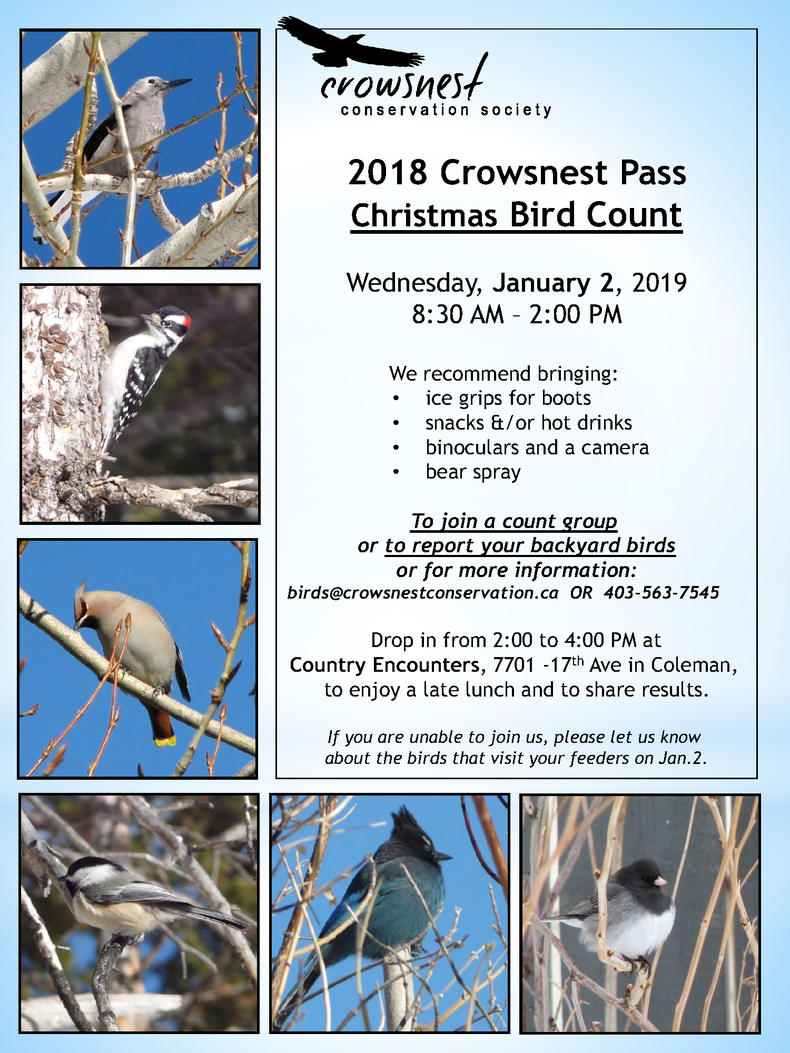 Flight of the Crows
Wintervention
Wintervention takes place mid-February each year and is a great way to break up the "winter blues." Events include human dog sled races, the frying pan toss, Silent Auction, Dinner and Dance, Chili Bowl Festival at the Art Gallery, and many more activities for the whole family.
For more information please visit http://www.crowsnestcando.org.
Family Fun Day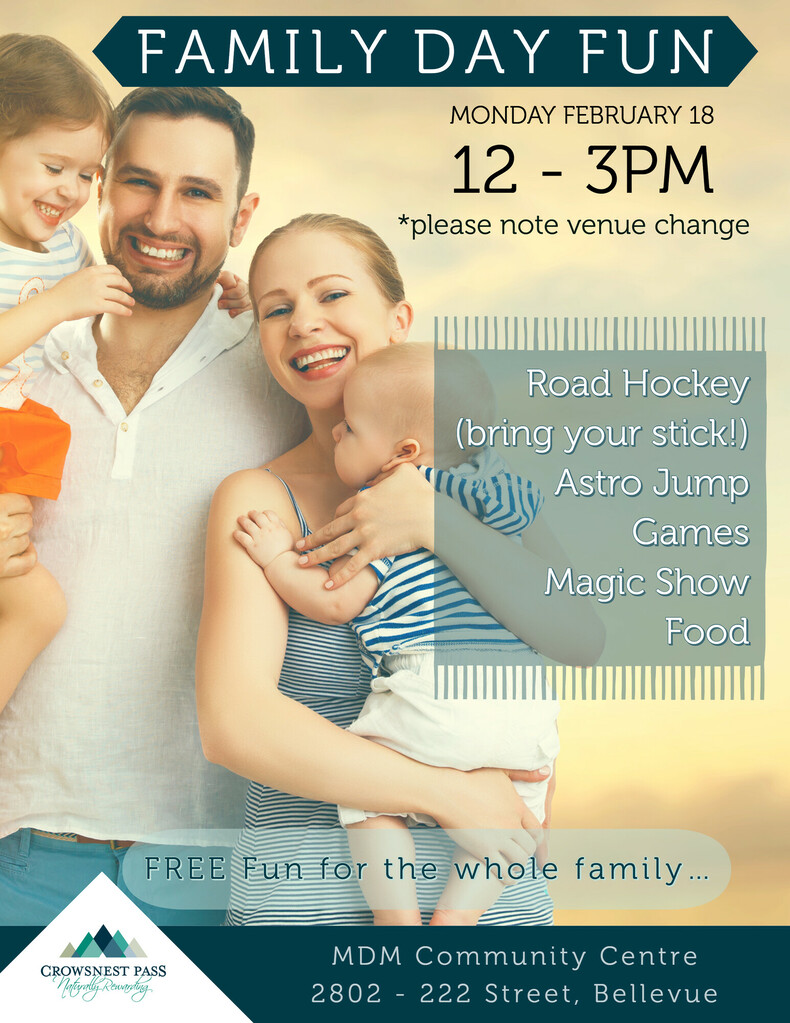 Bunny Bonspiel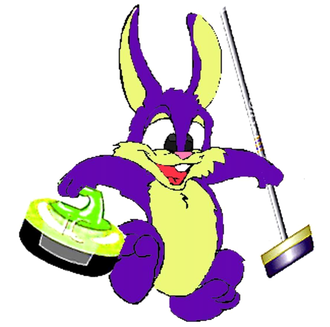 2019 Bunny Bonspiel is scheduled for April 18 - 21.
The annual Bunny Bonspiel takes place every year on the Easter long weekend.  The curling is free to watch and there is a dance on Saturday night for a $10 admission.
For details on this or any Crowsnest Curling Club event, visit http://crowsnestcurlingclub.ca/
Crowsnest Pass Lifestyle and Outdoor Adventure Show
Details available at www.crowsnestlifestyleshow.com
The Crowsnest Pass Chamber of Commerce presents the Annual Lifestyle and Outdoor Adventure Show each year at the Crowsnest Sports Complex in Coleman.
2019 dates:
Friday, April 26 – 3:00pm to 9:00pm
Saturday, April 27 – 10:00am to 4:00pm
The stage will feature live entertainment, demonstrations, promotions, contests, and more! There is something for everyone – make sure you take in all display areas: Main Floor Business Zone, Main Floor Outdoor Adventure Zone and the upstairs Home Based Business Zone.
2018 Admission is $5 per person, children under 12 FREE.
Come out and explore possibilities to make your lifestyle even better!
Interested in becoming an Exhibitor at the Show, or a Volunteer? Contact the Chamber of Commerce Office at (403)562-7108 or email office@crowsnestpasschamber.ca. Contact the chamber for more information or visit their website.
Kananaskis Pro Rodeo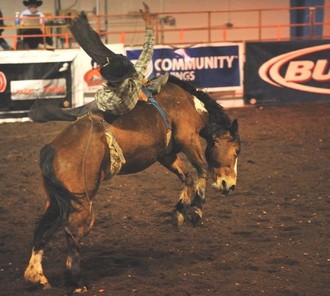 2019 KRA Pro Rodeo is scheduled for May 10 - 12
The Kananaskis Pro Rodeo represents one of the first stops on the Canadian Pro Rodeo Association's circuit. From bull riding to mutton busting, there is excitement and fun for the whole family.  For more information:  Kananaskis Pro Rodeo Association.
KRA Pro Rodeo is your chance to see some of North America's greatest cowboys and cowgirls competing in the indoor arena. All of your favourite events will be here - watch the contestants throw down in bareback riding, steer wrestling, barrel racing, tie down roping, saddle bronc, team roping, and bull riding.
Watch for the contestant and stock draw on the CPRA page for details on which day your favourite cowboys and cowgirls are up.
Hillcrest Mine Disaster 105th Anniversary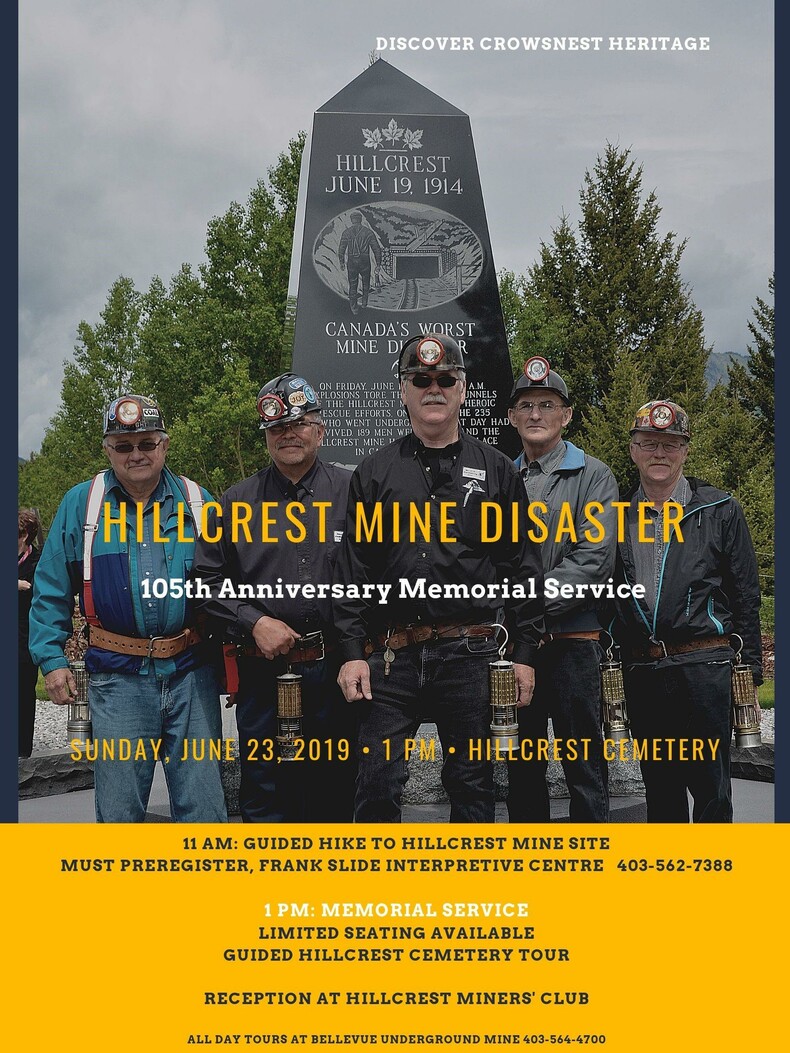 Bellecrest Days
Sponsored by the Bellecrest Community Association, Bellecrest Days are held annually on the third weekend in June in Hillcrest and Bellevue. 
Events include:
soap box derby
pancake breakfast
parade
bouncy houses
games
stage entertainment
music
vendors market
hose coupling contest
pool tournament
great food
Bellecrest Seniors bake sale, garage sale, and silent auction
For more information please contact Krissy Ames at 403-563-8352 or by email at bellecrestdays@gmail.com
Canada Day Celebrations