Resume Development Workshop
Alberta Health Services - Mobile Mammogram
Seniors Benefits Presentation
Community Adult Learning Program - Call for Applications
The Alberta Ministry of Advanced Education is inviting eligible organizations to apply for a two-year probationary Community Adult Learning Program grant funding. Eligible organizations interested in serving foundational learners in the municipality of Crowsnest Pass may apply.
The Community Adult Learning Program (CALP) provides funding and other supports to over 100 community-based organizations to facilitate part-time, primarily non-formal, adult learning opportunities in communities across Alberta.
Organizations funded through the CALP work towards the following vision:
Changing lives through adult foundational learning in connected communities. 
To make this vision a reality, funded organizations serve as visible access points for learners who have literacy and foundational learning needs. These needs include adult literacy, numeracy, English language learning, basic digital skills, and/or foundational life skills, and can be addressed through group learning such as a class or family literacy program or through one-on-one or small group tutoring.  Organizations are often the local learning hub in a community: in addition to providing adult foundational learners with access to learning opportunities, organizations work collaboratively with community partners to be able to give learners the information, referrals, and other supports they require to be successful in meeting their personal learning and/or employment goals.
Eligible organizations that have an interest in working towards the program's vision are invited to apply for Community Adult Learning Program grant funding on a probationary period. The deadline for Applications is June 3, 2019, and details on how to apply can be found at https://calp.ca/.
If you have any questions, please contact Ben Hartt, CALP Grant Manager for the South Region, by email at Ben.Hartt@gov.ab.ca or by phone at 780.427.5625.
Thank you and we look forward to receiving your applications!
DOWNTOWN COLEMAN UPGRADES – PHASE 1
Please be advised that construction crews will be working in Downtown Coleman for the purpose of:
Road Excavation
Utility Replacement
Street Construction/Asphalt Paving
Sidewalk Curb & Gutter Construction
Phase 1 is anticipated to run from April 23, 2019 to June 30, 2019 - Please see the Phase map below.
Phase 1 Closure Details:
17th Avenue will be closed to traffic between 76th Street and 78th Street. Detours will be in place, however, traffic will be disrupted throughout the duration of the project. Pedestrian access will be accommodated at all times, as will emergency response. Temporary water services will be provided to ensure continuous operation. Coordination of short duration service disruptions will be communicated on an individual basis.  Please see the detour map below.
It is the intention of the contractor to perform the above work in the most expedient and efficient manner possible and it is unlikely that you will be affected throughout the entire duration of Phase 1 work.
To assist us with the performance of this work we respectfully request your co-operation with the following:
Please remove vehicles from your garage or driveway (if you require the use of them) for
the duration of the work as the construction may necessitate a full or partial obstruction for access to the driveway or garage.
*APPLIES TO ISOLATED SITUATIONS ONLY WHERE THE CONCRETE REPLACEMENT LIMITS THE ACCESS OF YOUR VEHICLE*
Please refrain from using exterior water for the duration of the work as excess run-off
could enter the construction area and have a serious effect on the construction. Although the work may not be adjacent to your property, water flowing to the nearest catch basin could enter the construction site through underground pipes and result in negative impacts to our operations.
Please remove all vehicles from the streets within the construction area. Any vehicle which causes an obstruction to work operations may be towed. Other materials left in the work area will be removed and may be hauled away as garbage.
For your safety please obey all construction signage, do not attempt to enter the
construction area, or climb temporary fencing. In addition, do not attempt to drive over oiled surfaces as this may lead to damage of your vehicle.
We appreciate that this work may cause you some inconvenience, but you can be assured that we will minimize the disruption as much as possible.
We thank you for your co-operation and assistance.
If you require further information or clarification of this notice, please contact the BOW MARK office at 403-938-7920 between 8:00 a.m. and 4:30 p.m. on normal business days.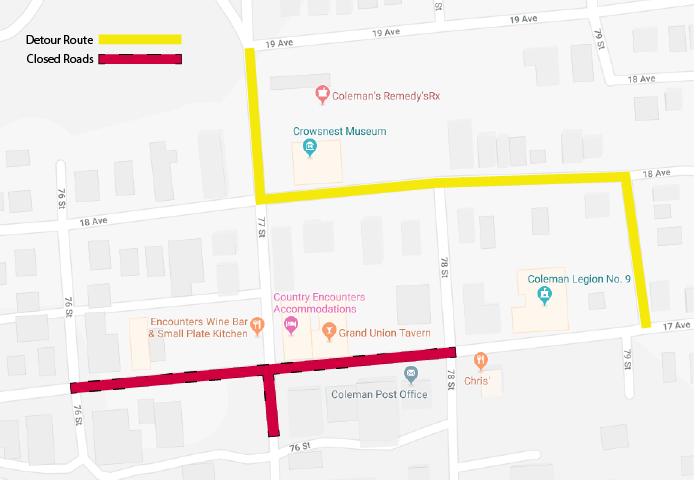 Bicycles in Crowsnest Pass Custody
These bikes have been hanging out at the Municipal Compound, some of them for years. They are looking for a new home! Most are in need of some TLC.
Call the Municipal office at 403-562-8833 to bring home one of these lonely souls.
Business Mentorship Program - Crowsnest Pass Chamber of Commerce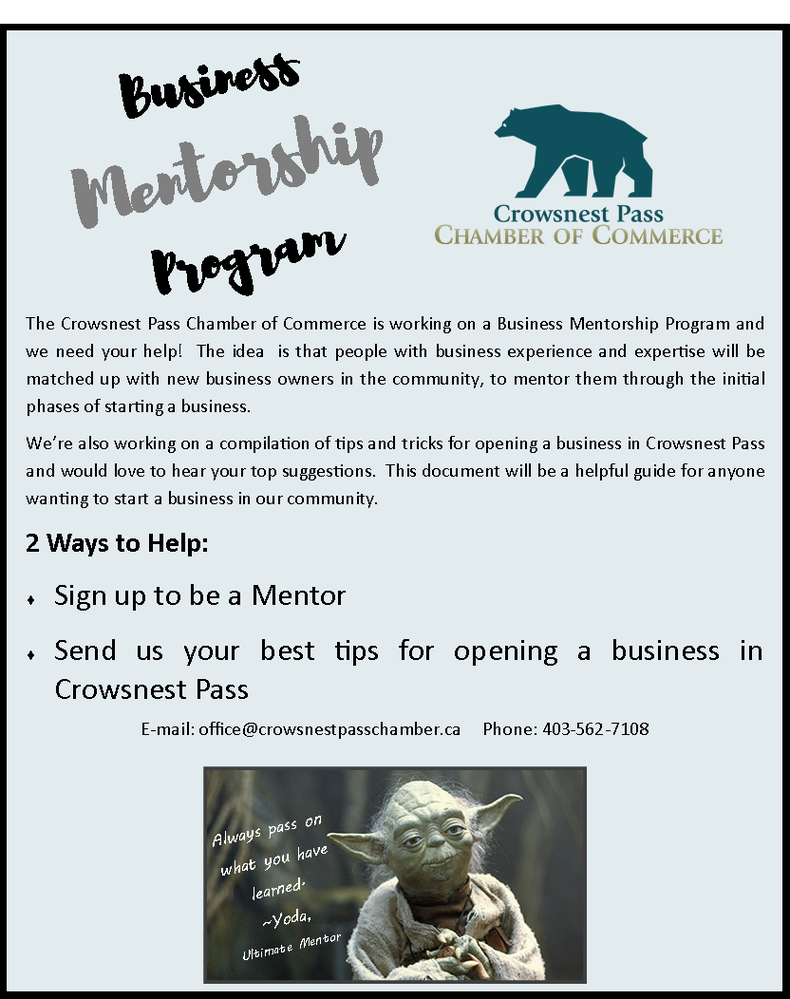 Welcome Neighbor