Learning For Life Community Initiative Open House
Home Alone Safe Program
CHANGES TO THE SPEED ZONES THROUGHOUT THE CROWSNEST PASS
We would like to take an opportunity to explain the process that resulted in the changes to the speed zones in the Crowsnest Pass.
Discussion regarding the speed zones have been ongoing over several years between the Municipality, the Provincial Government, RCMP, Crowsnest Pass Fire Rescue, EMS, etc., to come up with some interim measures to improve the safety to drivers, residents, and wildlife through the corridor.
The speed limit changes are a result of these discussions, recent speed limit studies, and the Highway 3 Functional Study.
We hope that these changes will result in fewer accidents and close calls in our community.
Stars of Alberta Volunteer Awards
The Stars of Alberta Volunteer Awards recognize extraordinary Albertans whose volunteer efforts have contributed to the well-being of their community and fellow community members.
Six awards are presented annually on or around International Volunteer Day, December 5. Two awards are given in each of the following 3 categories:
Nominate a youth, adult or senior volunteer who has contributed to the well-being of their community.
Visit https://www.alberta.ca/stars-alberta-volunteer-awards.aspx for more information or to nominate that outstanding volunteer in your community!
Mental Health First Aid - Seniors
DOWNTOWN COLEMAN UPGRADES – PHASE 3
Phase 3 is underway. 17 Avenue between 78 Street and 79 Street (including both intersections) will be closed to traffic. There will be no access to Downtown Coleman from East Coleman and vice versa.
Additionally, 19 Avenue 77 Street and 79 Street (over the creek bridge) will be closed.
Phase 3 is anticipated to run until September 30, 2019.
Please obey all construction signs and detours and remember to drive with extreme caution near workers.
Elections Canada 2019 - Poll Workers
Apply at elections.ca/jobs
Bicycles in Crowsnest Pass Custody
These bikes have been hanging out at the Municipal Compound, some of them for years. They are looking for a new home! Most are in need of some TLC.
Call the Municipal office at 403-562-8833 to bring home one of these lonely souls.
Business Mentorship Program - Crowsnest Pass Chamber of Commerce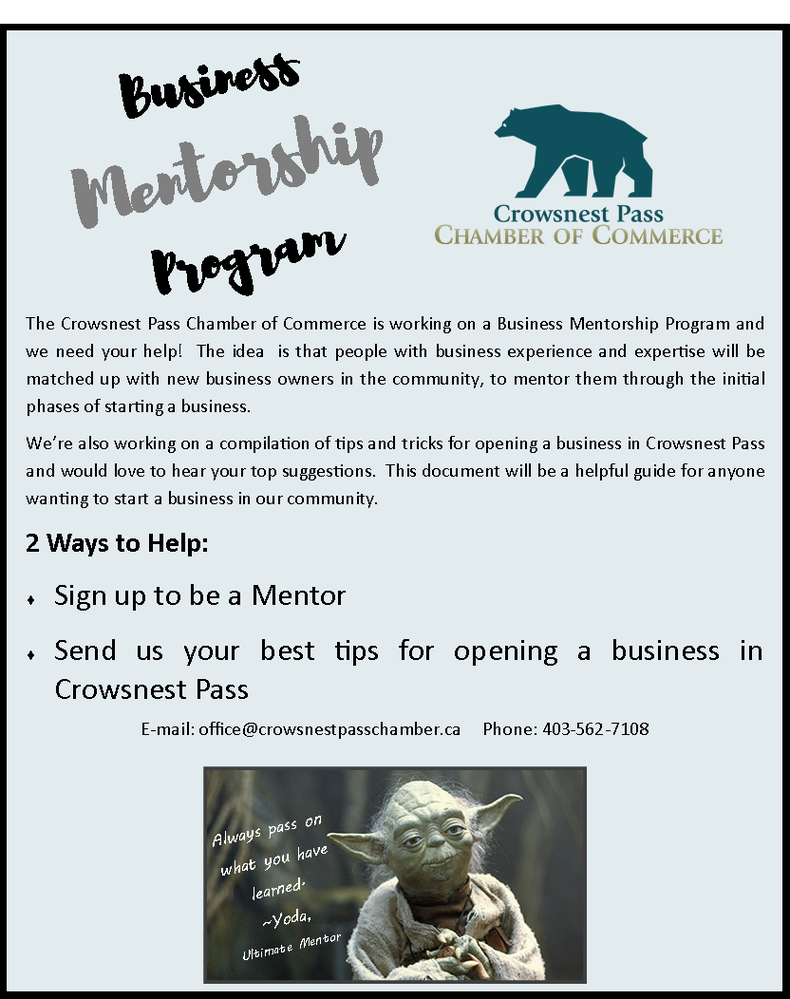 Welcome Neighbor