CHANGES TO THE FIRE PROTECTION AREA BOUNDARIES FOR FIRE HAZARD LEVELS IN THE CROWSNEST PASS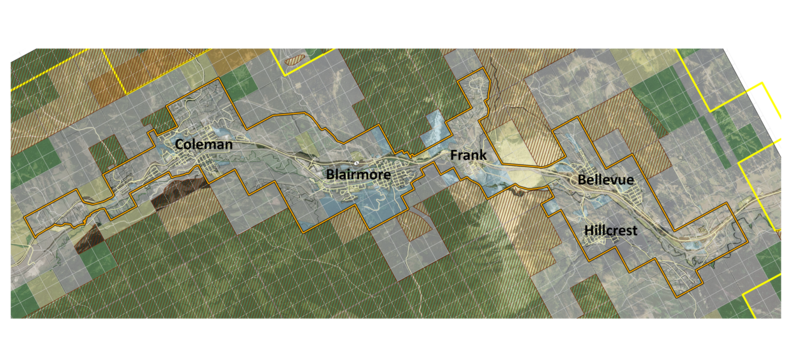 Working with Alberta Agriculture, Forestry and Rural Economic Development (AFRED), and through Ministerial approval, the Municipality of Crowsnest Pass has redefined the boundaries of the Urban Service Areas. The original community boundaries defined in 1979 no longer represent community and residential expansions with the updated boundaries accurately reflecting the urban service areas of the municipality.
Many areas that were previously under the jurisdiction of the Forest Protection Area (FPA) are now within the Municipality of Crowsnest Pass, for fire protection and permitting.
Structure protection and urban area fire services are normally the jurisdiction of the local fire department, while AFRED holds the authorities for wildfires in the forested rural areas of the municipality.
The Municipality is still responsible for all wildfire suppression and prevention activities inside its urban areas now defined as an Urban Service Area. The Municipality is still responsible for structural protection in rural areas. AFRED will remain responsible for wildfire management in rural and forested areas outside of these boundaries.
Existing mutual aid agreements remain in place between the Municipality and AFRED.
The Alberta Fire Bans website should be updated with the new boundaries shortly.
Frequently Asked Questions
Question
How do I know who to get a fire permit from?
Answer
If you are unsure of who to get a fire permit or a fireworks permit from, please contact Crowsnest Pass Fire Rescue at 403-562-8600 or visit the fire station in Blairmore.
Question
My property is outside the new Urban Service Area.  Will I still receive fire services if I need them.
Answer
Absolutely.  You will experience no change to receiving emergency services for medical aid, fire suppression or other responses.
Question
Who's Fire Danger Ratings do I follow?  The Forest Protection Areas or the Municipalities?
Answer
It depends on if you are in the Urban Service Area of the Municipality or the FPA.  If there is any uncertainty, just inquire with the fire department.