Working Well Workshop
Agriculture and Environmental Services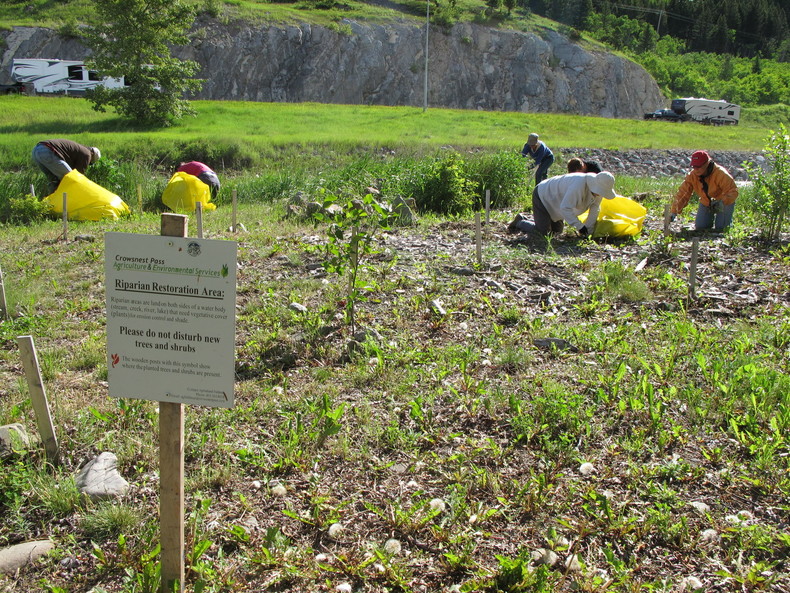 The Agricultural Fieldman for the Municipality of Crowsnest Pass can be contacted for weed and pest control, soil conservation and any agricultural or environmental concerns within the Municipality. Please call the Agricultural Fieldman to access free information, booklets, brochures, handouts and reserve books on agricultural and environmental materials (weeds, pests, water wells, re-vegetation, etc).   Bill Hnatiuk, Agricultural Fieldman can be contacted by phone at (403) 563-8658, fax (403) 563-5474 or by email at  agfieldman@crowsnestpass.com.
Together the Agricultural Service Board, Agricultural Fieldman and other staff make up the Agricultural Services Department whose responsibilities include the enforcement and administration of the following statutes: Agricultural Service Board Act, Weed Control Act, Soil Conservation Act, and Agricultural Pests Act.
Crowsnest Pass Agriculture and Environmental Services Program History and Continuity
Agricultural Situational Statement for the Municipality of Crowsnest Pass
Links to legislation
Agricultural Services Board Act

Weed Control Act
Weed Control Act Regulations with Prohibited Noxious & Noxious Weed Lists

Soil Conservation Act
Soil Conservation Regulations

Agricultural Pests Act
Agricultural Pests Regulations
PlayCleanGo
The Municipality of Crowsnest Pass is proud to be a PlayCleanGo Partner.
Working with a group of interagency partners, including the University of Minnesota Extension, Minnesota departments of Agriculture and Transportation, and Explore Minnesota, the Minnesota Department of Natural Resources has launched PlayCleanGo, an education and outreach campaign for outdoor recreationalists. The goal is to encourage outdoor recreation while protecting valuable natural resources. The objective is to slow or stop the spread of terrestrial invasive species (those that occur on land) through changes in public behavior. The campaign is designed to foster active participation in actions designed to interrupt recreational pathways of spread for invasive species. PlayCleanGo promotes awareness, understanding, and cooperation by providing a clear call to action to be informed, attentive and accountable for stopping the spread of terrestrial invasive species.
For more information, please visit https://www.abinvasives.ca/resources/playcleango/.
Weed Pull Event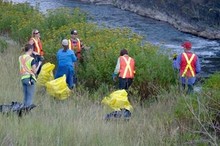 The Municipality of Crowsnest Pass Agriculture and Environmental Services would like to thank our community for their time and efforts throughout our Weed Wednesday season. This program brought together community volunteers and local businesses to help in the control of invasive plants within the Municipality. These weekly events, started in June, saw volunteers pull a total of 197 bags of weeds, including spotted knapweed, blueweed, Dalmatian and common toadflax, tansy and dame's rocket.
At our wrap-up pull and BBQ, volunteers enjoyed burgers and prizes provided by Agriculture and Environmental Services, the Oldman Chapter of Trout Unlimited, ATCO Gas, and Riversdale Resources. Lonsbury Applications Ltd. also showed up with a trailer to haul all of the weed bags to be disposed of. Invasive species control is a community effort; taking care of your property, supporting your neighbours and the efforts being made all around us. A big thank you to all who participated and supported Weed Wednesday this summer, see you next spring!
Notice of Weed Control Program
As designated by the Alberta Weed Control Act, the Municipality of Crowsnest Pass and its contractors will eradicate and control Prohibited Noxious and Noxious Weeds by mechanical, cultural, biological and pesticide application, commencing on May 15th until October 31st (weather permitting).
Identification of these specific weeds can be found in the Weed Control Act and Weed Control Regulation.
Weed ID booklets, pamphlets, and brochures can also be obtained at the Agriculture and Environmental Services Office located; Fire hall, 2nd floor 2141 127 Street Blairmore. Call 403-563-8658 for an appointment.
The pesticide application contract is awarded to certified and licensed weed application contractors. Spraying will be completed in specific locations around Crowsnest Pass and within the following town sites; Passburg, Bellevue, Hillcrest, Frank, Blairmore, and Coleman. Annual control of infestations is critical to the long term prosperity of our natural landscape. Due diligence with regards to public safety and environmental impact will be followed. We recommend staying off sprayed areas for 24 hours following the application time and date (posted on signage).
What you can do:
Destroy/remove Prohibited Noxious and Noxious weeds from your yard. Be sure to remove the entire plant and roots if possible.
Let your neighbors know if you find a Prohibited Noxious or Noxious Weed on your property, it may have spread.
Dispose of the weeds by double bagging the plant and placing it in your regular garbage disposal. DO NOT COMPOST (seeds will spread in new soil).
When selecting plants for your yard, purchase plants native to Crowsnest Pass.
Volunteer for environmental cleanup events to learn about invasive species in Crowsnest Pass. The Crowsnest Conservation Society, along with other collaborative organizations, also offer weed pull volunteer days and educational related events.
Please direct questions and investigations to Bill Hnatiuk, Ag-Fieldman or Weed Inspectors for the Municipality of Crowsnest Pass: 403-563-8658 or 403-563-6247.
What to do when you receive an Inspector's Notice?
Take a look at which weeds are on the Notice. Are they Prohibited Noxious or Noxious weeds? This will determine what action you will take to comply with the Notice (note the compliance completion date). Will you need to control or destroy the weeds?
Identify the weeds on your property. If you have tenants or someone else taking care of your property (they should have received a posted/hand delivered Notice), then have them ID the weeds. Contact the Weed Inspector if in need of assistance.
Assess the weed problem. Knowing what you have and how big of an infestation you are dealing with will help you determine what practices to use in controlling/destroying the weeds.
Actions:
Hand-pulling - This method works well for low to moderate infestations. If done properly, you can eliminate the weeds on your land for that season. You want to make sure you pull as much of the root as possible. Tools may be needed on some species. Don't forgot the seedlings! This process is an effective way to eradicate weeds from your property. Remember to double bag the weeds and take them to the dump as soon as possible so they do not have a chance to spread.
Mowing/string trimming - This method is good for moderate to high infestations. If done properly, you can reduce the seed amount going into the ground and have less growth next season. You want to make sure you keep up with the growth of the weeds. You may need to cut the weeds down before it's time to mow the grass again. By keeping the weeds cut down, you're making sure they won't produce seed. Since most weeds are perennials, the same plants you've been cutting regularly will come back next season. By cutting the weeds every season, you eventually wear them down so that they'll no longer have the energy to come back in the future. This is a slow but effective process to eradicate weeds from your property.
Landscaping - Proper landscaping is a long term solution to solve your weed infestation. Finished landscaping reduces the area in which weeds thrive (gravel, bare soils, and low vegetation). Having a healthy competition of desirable native species/vegetation will help to keep the weeds off your property. If weeds get a chance to establish, then the native species you have planted will out compete the weeds naturally. If you kill your weeds with chemicals and are left with little vegetation and/or bare soil, spread mulch over the area (leaves, straw, store bought). This acts as a barrier between the weed seeds and the resources they need to germinate.
Herbicide application - This method is good for moderate to high infestations. If done properly, you can reduce the amount of seed going into the ground and have less growth next season. Some things you need to know about applying herbicide is what kind will work best for the species you're trying to kill, and when is the best time to apply it? You may need to apply the herbicide multiple times during the season. Remember to apply the herbicide before the weeds have gone to seed. Combining this method with the previous one is a great way to eradicate weeds from your property.
Remember:
The longer the weeds have been there, the longer it will take to eradicate them. This is an on-going process, but you will see results if you stay consistent.
Having proper knowledge of the types of weeds you are dealing with will make for a better outcome.
Seeds can be viable in the ground for 25 years plus and create a massive seed bank. That's why it's important to control the weeds before they become a problem.
Regular property maintenance and finished landscaping is a long term solution to prevent invasive weeds from spreading and establishing.
Please don't hesitate to contact the Agricultural and Environmental Services Department if you have any concerns/questions, we are here to help!
Spread the Word not the Weed!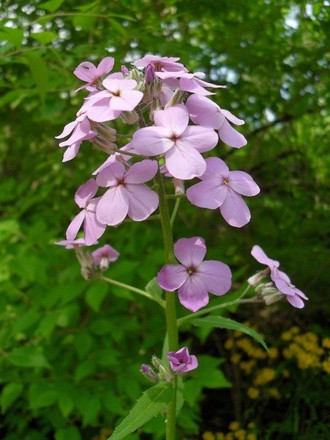 Landscaping ideas aren't hard to come by in Crowsnest Pass when you have the Rocky Mountains as your backyard for inspiration. But some of the vegetation we see in Crowsnest Pass are not native to our area. This includes the noxious species known as Dame's Rocket.
Dame's Rocket was introduced from Europe as an ornamental but is now interfering with the natural ecosystem in Crowsnest Pass. It's a perennial (comes back year after year), and can be controlled by hand pulling.
Dame's Rocket looks nice in your flowerbed but will quickly spread and outcompete the native species. Native species are important to preserve because they help to maintain natural biodiversity and are beneficial to other native species such as birds. Planting with native species as opposed to invasive ones is a healthier choice for the environment.
Spread of weeds prohibited 4(1)
Subject to the regulations, a person shall not use or move anything that, if used or moved, might spread a noxious weed or prohibited noxious weed.
Offence and penalty 28
A person who contravenes this Act is guilty of an offence and liable to a fine of not more than $5000 or, in the case of failure to comply with a Minister's notice, a fine of not more than $1000 for each day the offence continues.
Pest Control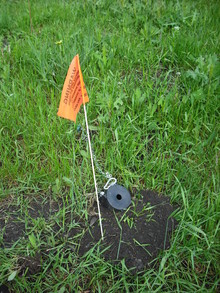 Please refer to the Alberta Pest Control Act and Regulations for a list of pest and nuisance animals.

Pest Management Links

Biology & Control of Skunks: Skunk traps are available for rent from the Agricultural Fieldman. $65 deposit (cash or cheque which will be returned once the trap has been returned in the same condition that it was borrowed) and a $10 rental fee.
Control of Porcupine damage
Mice and their control
An Improved Magpie Trap
Grasshopper Management
Protecting Livestock from Predation with Electric Fences
Sparrows
Rats
Alberta is 1 of 3 places on earth that is free from established rat populations (others locations being the North and South Pole). Some native animals to the Crowsnest Pass have been mistaken for rats so it is important to know the differences between invasive Norway and Roof rats compared to native Pack rats/Wood rats, or Muskrats. The pictures below will help you to identify each species of invasive or native rats. All Norway or Roof rat sightings MUST be reported to the Agriculture & Environmental Services Department immediately in order to prevent their spread.

Roof Rat, Muskrat, Packrat & Pocket Gopher Comparison Sketches
Norway Rat Sketch
Rat Control in Alberta
History of Rat Control in Alberta


Gophers and Ground Squirrels
The Crowsnest Pass is situated in the foothills and Rocky Mountains of Alberta. This means the Columbian Ground Squirrel and the Northern Pocket Gopher are the main species of ground squirrels and gophers present in the Crowsnest Pass. The Richardson Ground Squirrel lives in the prairies and looks different from the Columbian Ground Squirrel. Much of the literature available on gopher control focuses on Richardson's Ground Squirrels and not Columbian Ground Squirrels. The same control methods are used to control both species of ground squirrels. Pocket Gophers require another tactic and trap because they live under the ground and only surface at night for air to avoid their predators.
Control of Pocket Gophers and Ground Squirrels
Richardson's Ground Squirrels
Pocket Gopher Control Information
Plants and Soil Conservation
Please refer to the Soil Conservation Act and Regulations for more information.
The Alberta Native Plant Council's list of Native Plant Sources to buy native seeds or plants that are not invasive or weeds.
50 Best Plants for Prairie Urban Gardens in Southern Alberta
Agricultural Soil Compaction Causes and Management
Riparian Restoration
In the 2016 season the Agriculture and Environmental Services Department worked on a number of riparian restoration projects. A native plant and willow staking project was completed north of Frank on Gold Creek adjacent to Benga property. As well, project planning was completed for future riparian restoration of Gold Creek at the confluence of Crowsnest River for completion in 2017. Willow staking was also performed on P. Burns Creek alongside the riparian restoration project completed in 2015, and at the McGillivray Creek confluence with Crowsnest River. A total of 478 bags of weeds weighing a total of 2710 kg (5975 lbs) were pulled by our department this season and taken to the landfill.  These weeds were from various areas within the Municipality including along Crowsnest Lake, Crowsnest River, Drum Creek, Gold Creek, Lyons Creek, McGillivray Creek, Nez Pearce Creek and P. Burns Creek.
Riparian Area Health Brochure
Riparian Area Health Newsletter

For more information on riparian restoration please visit the links below:
Crowsnest Conservation Society
Alberta Conservation Association
Cows and Fish Alberta Riparian Management Society
Oldman Watershed Council
Government of Alberta Water for Life
Early Detection Rapid Response
Growing Forward 2
Livestock Welfare Producer Program
The purpose of the Growing Forward 2 (GF2) Livestock Welfare Producer Program is to provide financial support for Alberta livestock producers to adopt the best management practices and equipment that improve livestock welfare thereby enhancing competitiveness and sustainability.
For full details, please see Growing Forward 2 Livestock Welfare Producer Program
News release - Primary producers and processors GF funding changes
http://www.alberta.ca/release.cfm?xID=43670AA2C28CA-B736-B075-EBE44E74E24AC24B
The additional support is being provided through the industry-supported Climate Change Emissions Management Fund. The funding will support the expansion of the following programs:
On-Farm Energy Management Program
Increase the percentage of capital purchases covered to 70 per cent from the current 35 per cent and increase the cap on funding to $750,000 (up from $50,000)
On-Farm Solar PV Program
Irrigation Efficiency Program
Increase the number of eligible projects by an applicant and increase the funding cap to $15,000 from $5,000 for specific types of projects
Accelerating Agricultural Innovation Program
Allocate $1 million to help food processors retrofit their plants with energy-saving technology to help bridge funding until the Energy Efficiency Agency can be established.
Growing Forward 2 - On-Farm Solar Photovoltaics Program
The GF2 On-Farm Solar PV program has re-opened with new Terms and Conditions.  Changes include:
From 100% upfront payment of the grant, to 70% upfront, the remainder upon final report
New requirement that workmanship must be warrantied
Clarification of how the grant maximum amount is calculated
New requirement of an energy assessment for applicants who have agriculture and non-ag electrical loads and there is a discrepancy with the size of solar PV system they are applying for *.
*There will be more clarity on the process to validate the proportion of load that is for primary agriculture production, which leads to the question of Farm Residences.   A farm residence is expected as part of a mixed load on most farm meters, and so the program area will be using a fixed allowance for a residence (maximum 1 residential allowance per Applicant, not per site ID) to include in the calculation to verify the size of the solar PV system that would get funded.  In other words, a farm service that is mixed because it has a residential load is not disqualified from the program, and the load to the residence is even allowed to make up part of the approved solar PV system size, but only at the fixed allowance set by the program.  In the event of additional non-agricultural loads on the meter, and where the Applicant disagrees with the size of the solar PV system the program is willing to fund, then the Applicant will have the option of undertaking an Approved Energy Assessment to support the size of the solar PV system they are proposing in their Application.
For more information, please visit:
http://www.growingforward.alberta.ca/Programs/index.htm?contentId=ON_FARM_SOLAR_PRG&useSecondary=true
Horse Industry Association of Alberta
The Horse Industry Association of Alberta (HIAA) was informally established in 1982 to act as an organizing body for the Horse Breeders & Owners Conference. Until this time, the conference had been hosted by the University of Calgary Continuing Education Department under the direction of Ron Cole. With Ron's retirement, the conference was in danger of discontinuing, so a dedicated group took it on and moved it to its current location in Red Deer. By 1991, the growth of the conference necessitated the incorporation of the Horse Industry Association of Alberta under the Alberta Society's Act as a non-profit organization.
For details and current events and workshops, please visit http://www.albertahorseindustry.ca/
Marketing Essentials: Telling Your Story
Getting Into Farmers' Markets