Crowsnest Crossing Development Opportunity - Property For Sale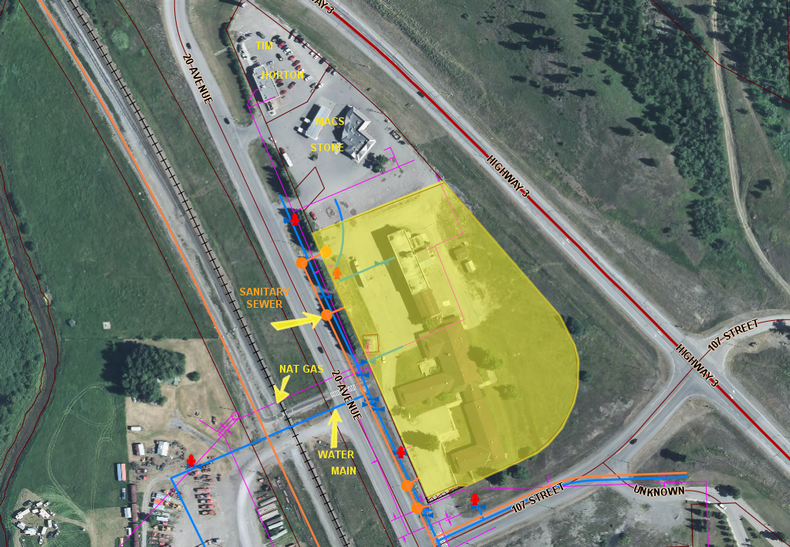 ZONED DRIVE -IN COMMERCIAL C- 2
PURPOSE:
To accommodate development of commercial uses which require both high visibility and ready access or egress to and from designated highways and major thoroughfares for the benefit of the motoring public.
PERMITTED USES:
Drive-in restaurants, motels, service stations
PROHIBITED USES:
Shipping containers
DISCRETIONARY USES:

Accessory buildings and uses, auto repair shop, auto sales and service, building supply centres, campgrounds, car washes, construction trade shop, contractors, entertainment establishment, equipment sales, rentals and service, fitness centres, funeral homes, gaming or gambling establishments, garden centres, gas bars, hotels, liquor stores, office, secondary to an approved use, pawn shops, personal service uses, recreational vehicle sales and rental, residence, secondary to an approved use, retail sales, secondary to an approved use, signs, taxidermy, utilities and services, veterinary clinics, warehouses, secondary to an approved use.
LOCATION OF PROPERTY:
Legal Description:   Plan 731227, Block H     6.24 Acres         C of T# 001121301001
Utilities: water, sewer, natural gas, electrical, telephone, cable TV
Access to Highway 3 and to 20th Avenue, Blairmore (Main Street)
Adjacent businesses: Mac's Store, A & B Liquor Store, Home Hardware, Tim Horton's Restaurant, close to Crowsnest Pass Hospital and Crowsnest Pass Golf and Country Club.
All buildings in the highlighted area have been removed.
CONTACT INFORMATION:
Patrick Thomas, Acting CAO
Municipality of Crowsnest Pass
PO Box 600
Crowsnest Pass, AB T0K 0E0
E-mail: patrick.thomas@crowsnestpass.com
Phone: 403-562-8833
Fax 403-563-5474