Pass Powderkeg Ski Hill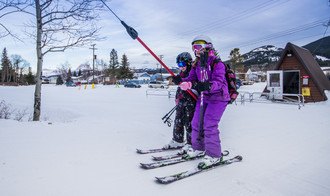 Season passes are available at 25% off until 11:59pm on December 22, 2016.
Please visit http://cnp.recdesk.com//recdeskportal/CNP/ProgramDetail/tabid/5161/default.aspx?ProgramID=242&mode=1 to purchase.
Get your skis or snowboards ready and your smiles on for an adventurous, fun-filled day at Alberta's popular family friendly ski resort. Owned and operated by the Municipality of Crowsnest Pass, the ski area boasts challenging terrain, affordable rates, an excellent ski and snowboard school, equipment rentals, terrain park, night skiing, snowmaking and friendly service.
Pass Powderkeg, quickly becoming Alberta's favorite family ski area!
Visit the Pass Powderkeg Website

Tentative Opening (Dec 23)

Holiday Break (Dec 23 – Jan 8 *closed Christmas)
Sun-Thurs 10am-4pm
Fri/Sat 10am-8pm

Regular Hours (Jan 9 – Feb 19)
Wed–Fri 5-9pm
Saturday 10am-8pm
Sunday 10am-4pm

Reading Break (Feb 20 – Feb 24)
Sun-Thurs 10am-4pm
Fri/Sat 10am-8pm

Spring Hours (Feb 25 – Mar 25)
Thurs/Fri 5-9pm
Saturday 10am-8pm
Sunday 10am-4pm